Key Dates to Remember for the Arvest Branch Acquisition
Friday, January 28, 2022

• 2:00 p.m. - Your Arvest branch will close and remain closed throughout the weekend.
• 8:00 p.m. - Begin to use new FB&T transit routing number to set up drafts, ACH and check orders.
• 8:00 p.m. - Arvest online banking system will be disabled

• 8:00 p.m. – Activate and begin using your new FB&T MASTERCARD Debit Cards; Arvest Debit Cards will be deactivated.

• 8:00 p.m. – Begin to use your new FB&T checks.

8:00 p.m. – Begin to use FB&T Bank by Mail services.

Saturday, January 29, 2022

• Your Arvest Branch will be closed.

Monday, January 31, 2022

• During this transition period, any electronic items with the Arvest routing and transit number will be posted with one day's delay. This will be temporary until all notices of change are completed by Arvest.

Tuesday, February 1, 2022

• Enroll in FB&T Telephone Banking.
About the Arvest Branch Acquisition
Farmers Bank & Trust Company  headquartered in Magnolia, Arkansas, has completed an agreement with with Arvest Bank ("Arvest"), headquartered in Fayetteville, Arkansas, to acquire nine separate Arvest branch banking offices in Arkansas and Oklahoma. The conversion will take place over the weekend of January 28-30, 2022. 
The separate branch banking offices located in Arkansas are 960 S Constitution Avenue, Ashdown; 501 W Collin Raye Dr, De Queen; 103 E 3rd Street, Dierks; 214 N First Street, Glenwood; 221 S George Street, Mount Ida; 420 S Main, Nashville, and 205 E Walnut, Paris, and in Oklahoma are 409 S Park Drive, Broken Bow and 702 SE Washington, Idabel.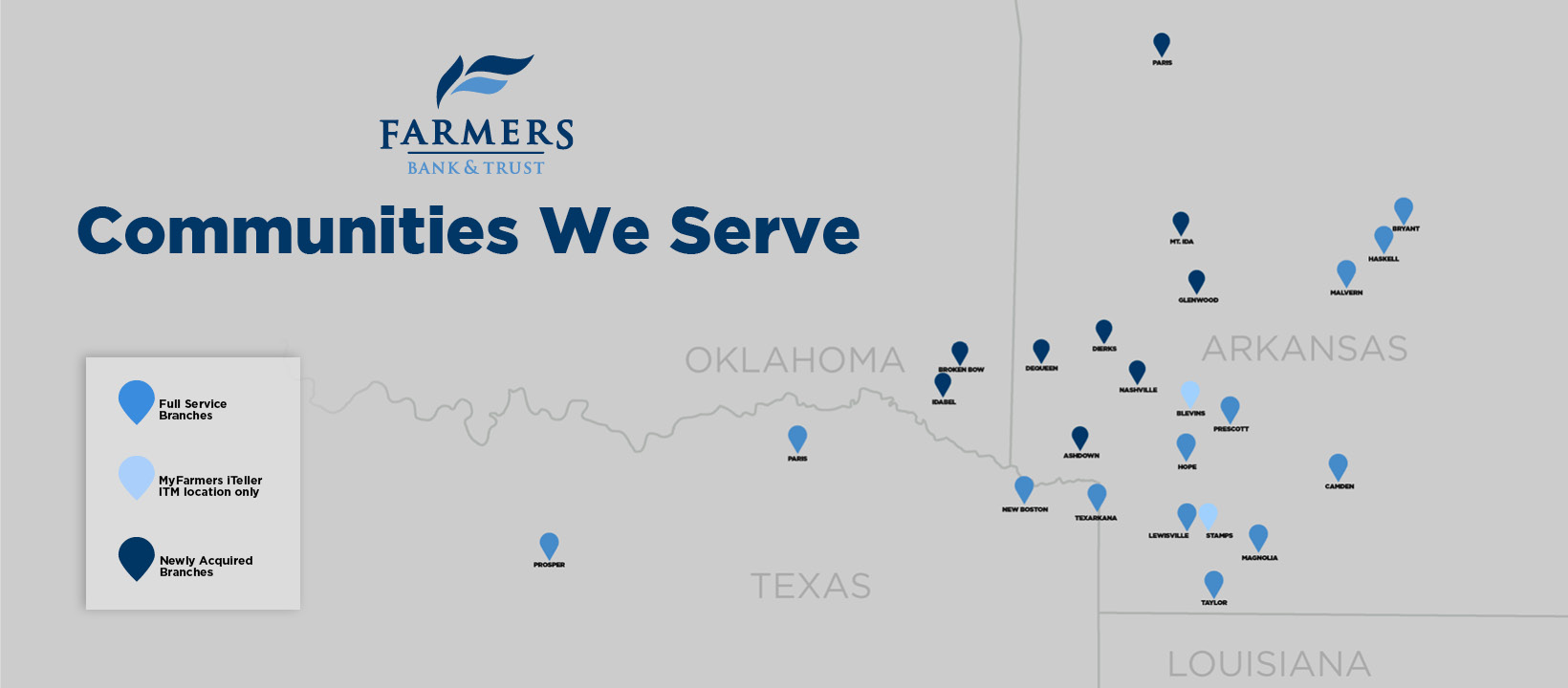 "We are extremely pleased with this opportunity to expand our footprint in Arkansas and into Oklahoma through the acquisition of these Arvest branches," stated Chris Gosnell, Chief Executive Officer and President of Farmers Bank & Trust. "Arvest has a solid financial reputation and shares our values of exceptional customer service, community support and–most importantly–trust. The Arvest customers we will be serving can be assured that we will continue to offer the hometown service and hometown values to which they've grown accustomed." Gosnell continued, "We have been around for 115 years as Farmers Bank & Trust and plan to be here for lifetimes to come. We look forward to welcoming our new customers and employees into our bank family."