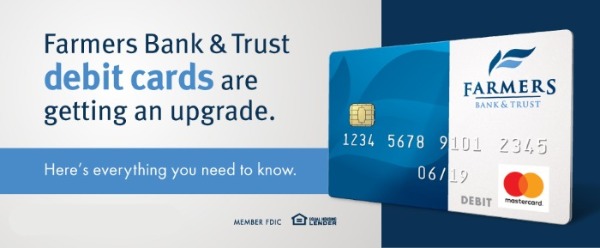 DEBIT MASTERCARD ADDITIONAL BENEFITS

Each Debit Mastercard will receives benefits based on the type of card. Learn more in the Guide to Benefits by selecting your card type below.
Why does my new card contain a microchip?
Farmers Bank & Trust is moving to chip technology because it provides more security and ease of use in other countries and is expected to become standard in the U.S.


Will I continue to enjoy free ATM access?
Yes! You can use your new Farmers Bank & Trust Mastercard to make unlimited free transactions at more than 25 Farmers Bank & Trust ATMs.


Can I get additional cards for other family members?
Yes, additional cards are available at no cost. To add authorized users to your account, just inquire at any branch or call 1-855-855-3268.


Can I get a different card design?
Yes, you can visit a branch near you to a have a new card printed in the design you choose, for a $5 charge.


Can customers change their PIN?
Yes. They can visit any of our walk in locations to do so. they may also call 800-717-4923 (when activating the card) to change their PIN.


Can a PIN be changed at an ATM?
Yes, it can be change at any Farmers Bank & Trust ATM only (not ITM or outside bank).