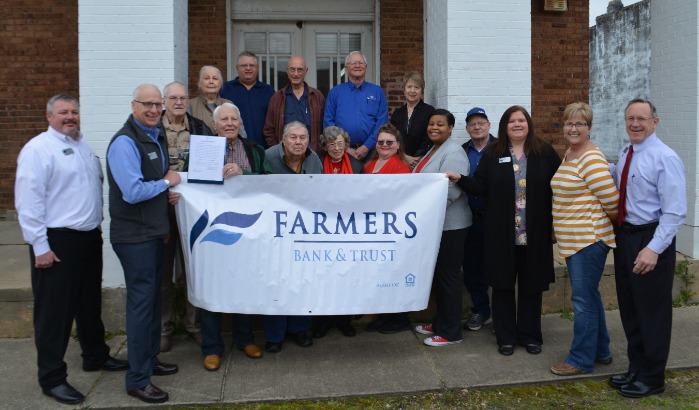 Blevins, AR—February 26, 2019
Farmers Bank & Trust deeded a building to the City of Blevins, Arkansas on February 26, 2019. A ceremony took place at the building located at 5901 Highway 29 North in Blevins, AR, at 10AM. The building currently serves as Blevins City Hall.
Pictured at the ceremony were back row: Gail Boyce, Keith Steed, Bill Thaxton, Wendell Hoover, and Jamie Steed and front row: Jacob Jones, Paul Ball, John Myrick, Mayor Bobby Steed, Mike Stephens, Nell Stephens, Nancy Myrick Weinfurtner, Natalie Jones, Joe Lane, Janet Choate, Nancy Lovette, and James Bramlett.
The building was previously occupied by the Bank of Blevins, then owned by 1st National Bank, 1st Bank, and then Farmers Bank & Trust after their acquisition of 1st Bank. The building became Blevins City Hall in 1990.
Farmers Bank & Trust Hope Market President Paul Ball said, "Farmers Bank & Trust is proud to officially deed the ownership of the former Bank of Blevins building to the City of Blevins. We are glad the building can be put to good use for the citizens of Blevins for years to come."