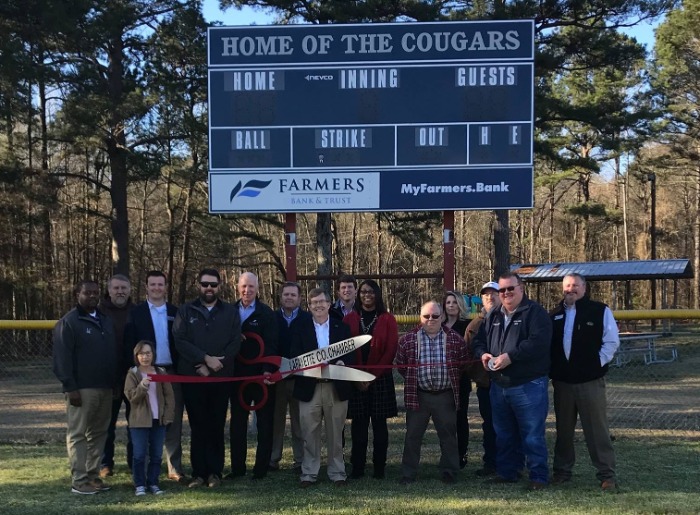 Stamps, AR—March 6, 2019
Farmers Bank & Trust made a $7,500 donation to the Lafayette County School District in Stamps, AR. The donation has provided a new digital scoreboard at the Lafayette County Cougars Baseball Field located in Lewisville, AR. A ribbon cutting ceremony took place on Tuesday, March 5, 2019, at 4:30 pm at the baseball field just prior to the Cougars first home baseball game of the season.
Pictured at the ribbon cutting ceremony were Tony Hartsfield, Sandra Aultman, Frank Lofton, Jeff Whitener, Ed Grant, Paul Ball, Robert Edwards, Monty Harrington, Brad Smith, Denise Tucker, Charlie Goodwin, Becky Sander, Jamie Knighton, Danny Ormand, and Jacob Jones.
Monty Harrington, Farmers Bank & Trust Magnolia Market President, said, "Farmers Bank & Trust is very excited to have the opportunity to bring a new scoreboard to the Lafayette County Cougars Baseball Field to enhance the overall game day experience."
Robert Edwards, Lafayette County School District Superintendent said, "It has always been a pleasure to work with Farmers Bank, they provide meals for our staff and go above and beyond the call of duty to assist with anything our community or district needs. The recent addition of two new scoreboards at the baseball and football field adds a fresh, new updated look to our facilities."
A ribbon cutting event will be scheduled for the Lafayette County Cougars Football Field scoreboard closer to season.